In August of 2022, our team visited the ultra-luxurious Sheldon Chalet in Denali National Park, Alaska. Set on a nunatak less than 10 miles from the summit of Mount Denali (the tallest mountain in North America at 20,310 feet) and surrounded by the Don Sheldon Amphitheater with views of the Ruth Glacier, the chalet is as incredible—and surreal—as one would expect.
Arriving to Anchorage is a little like arriving to Canada's north. It's quieter with a population of less than 300,000, low-rise buildings line the small downtown core and the landscape is somewhat flat save for the mountains protruding in the distance of Denali National Park. I arrived early afternoon and after flagging a taxi from a particularly welcoming and chatty character, I was checked into my hotel and free to roam.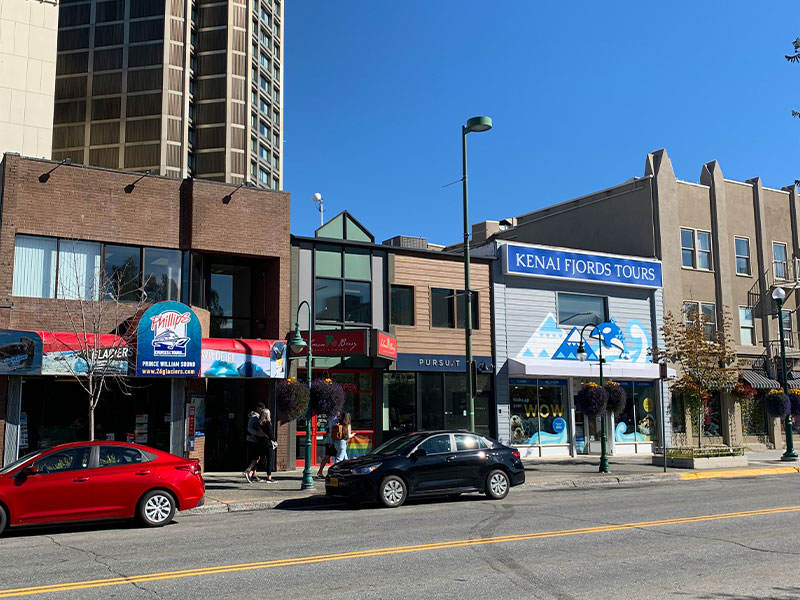 Some of the shops lining the streets of downtown Anchorage. Image taken by me.
One of the first things that struck me into feeling aware I was in Alaska were the ample references to moose, bears and eagles along the storefronts, gift shops and cafes. That, and the omni-present American flag that still waves proudly this far above the lower 48. It was a warm, sunny August day and the locals were out, lining up for a meal at a few restaurants that piqued my interest: 49th State Brewing, F Street Station and The Broken Blender, to name a few.
I was able to get a seat at the bar in the foremost and ordered a plate of The 49Er's Famous Fried Halibut Tacos washed down with a pint of Alaska 8 Star Lager with Lime & Sea Salt. It was delicious and the perfect pairing, though I have to say I was tempted to try a reindeer sausage pizza or the World Famous Yak Burger. After all, when in Alaska.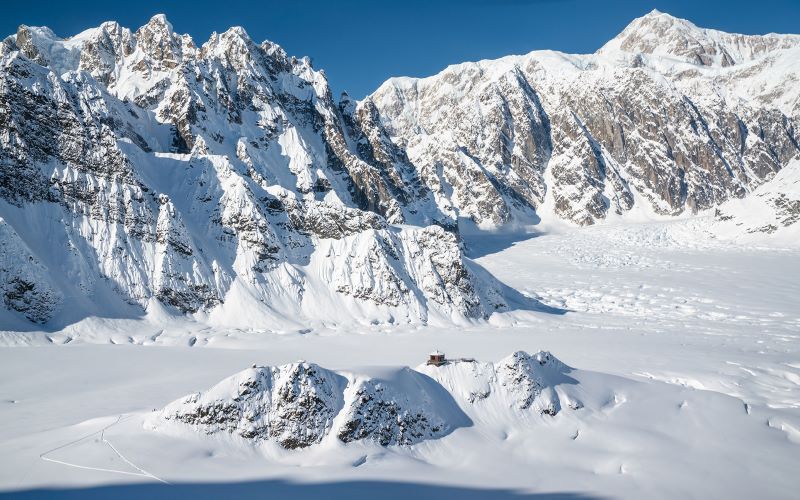 Arriving to Sheldon Chalet and the Don Sheldon Amphitheater by helicopter. Image courtesy of Sheldon Chalet.
The following morning, I joined up with the rest of my colleagues—Gary, the Founder and Owner of Alaska By Design; Jen, our Director of International Sales; and Deb, our Business Development Manager—and made our way to the Anchorage helipad with Salmon Berry Tours to begin our adventure to Sheldon Chalet. It was the perfect August day with clear skies, a light breeze and plenty of excitement in the air. It's not every day that you get to visit a luxury chalet just 10 miles from the summit of the 20,310-foot Mount Denali, and our anticipation heightened as we set foot aboard the helicopter—the only way to reach our destination.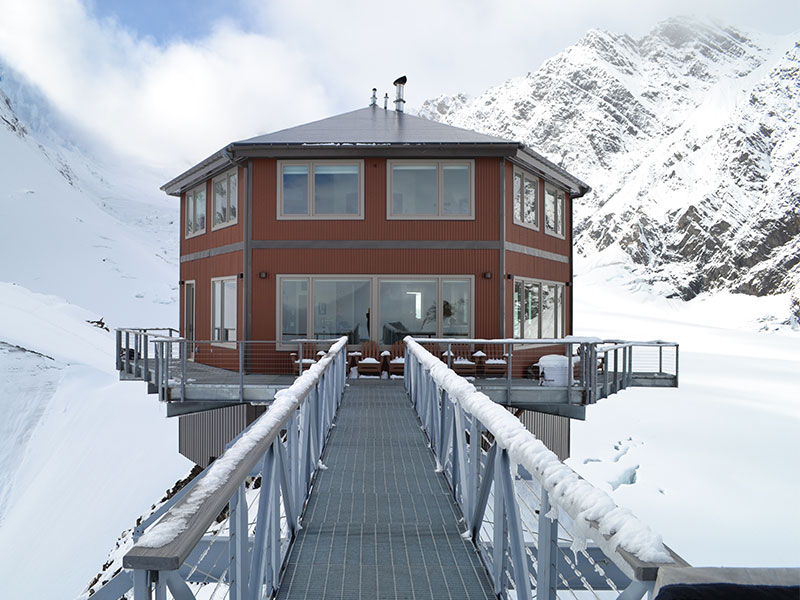 View of Sheldon Chalet from the helipad. Image taken by me.
After a quick fuel stop in Talkeetna, a meet and greet with the Sheldon family and a round of crab cakes on the town's main street, we took flight on the final leg of the journey and readied ourselves for the inevitable change in views. From the front seat of the helicopter, I captured cinema-worthy landscapes ranging from forest-laden tundra and glassy lakes to ancient glaciers and snow-covered peaks. This far north towards Denali the snow stays year-round, blanketing the Don Sheldon Amphitheatre in pure silence save for the occasional thunder of avalanches as the mountains shed their winter weight.
The seafood feast and champagne served upon arriving at Sheldon Chalet. Image taken by me.
A small team of four greeted us as the helicopter touched down at Sheldon Chalet. There were our two Adventure Guides, Nikolai and Terrell, the Chalet's Concierge and Sommelier, Tom, and Dave, nicknamed 'Delicious Dave' for his incredible skills as a Chef. We had already indicated our dietary requirements and preferences prior to arrival, and so an impressive seafood feast patiently awaited us on the dining room table. With a pop of champagne and some friendly chit-chat with our hosts, we were already settling in.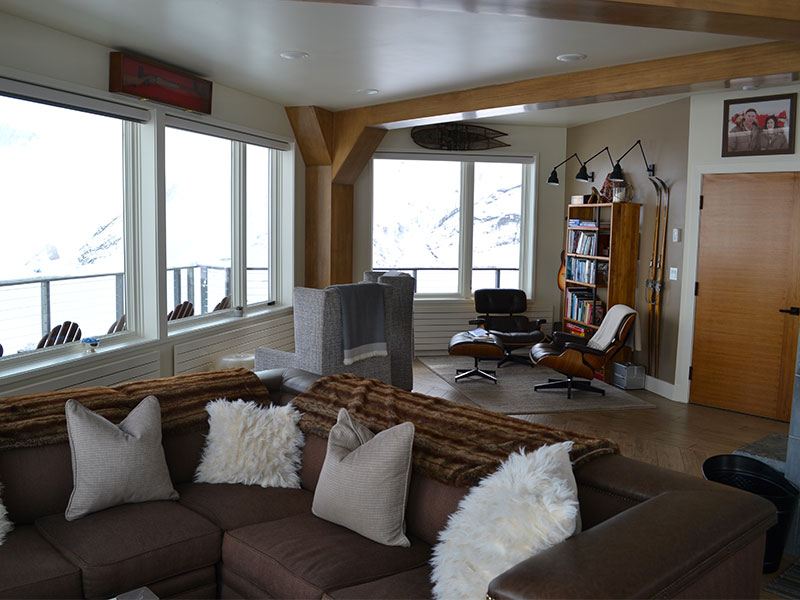 Part of the main floor of Sheldon Chalet, showing multiple cozy sitting areas. Image taken by me.
The following few days consisted of more delectable meals featuring fresh Alaskan foods (think salmon, local produce and breakfasts decorated with edible wildflowers), whatever beverage our hearts desired and plenty of relaxing in the various sitting areas, sauna and our individual bedrooms. The latter were located upstairs in the chalet, where five identical beds laden with fake fur throws and plenty of pillows look out to slightly different mountain views. Another appreciated touch? A jug of fresh water replenished daily plus a branded activewear shirt, a water bottle and lip balm with SPF to keep.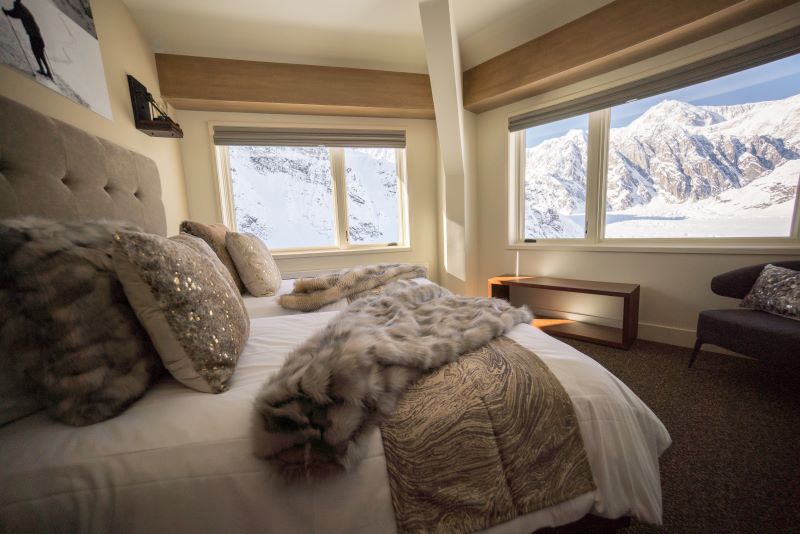 One of the bedrooms upstairs at Sheldon Chalet. Photo courtesy of Sheldon Chalet.
On day two, our team opted to get out and explore the glacier, so Nikolai and Terrell created an adventure we'd never forget. Suited up in several layers (the lodge provides all your outdoor gear, so you only need to pack a simple base layer), a harness, waterproof boots, warm gloves and sunglasses to help with that glacial glare, we grabbed our snowshoes and poles and ventured into the snowy Alaskan wilderness.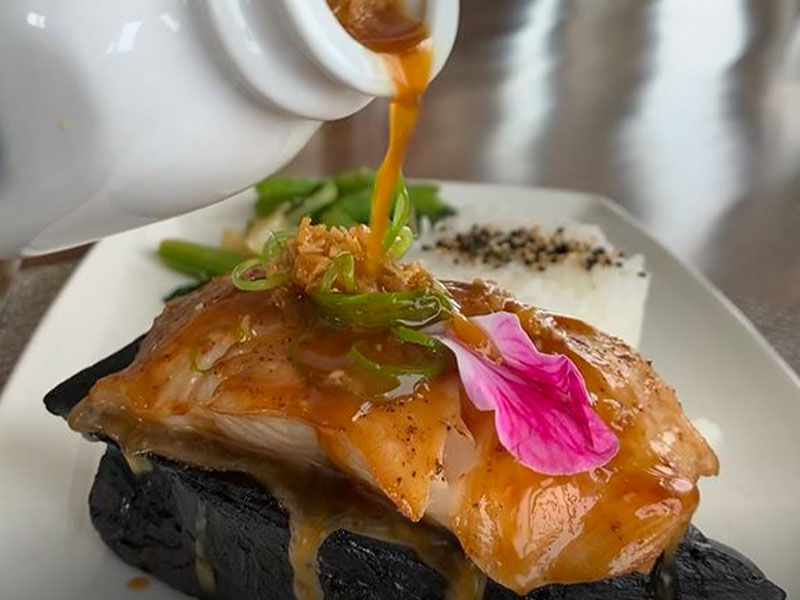 A delicious dinner prepared by Chef Dave at Sheldon Chalet. Image taken by me.
For someone who had never been glacier exploring before (and who has only an average skill and fitness level for hiking) the activity felt safe, exhilarating, intense and approachable all at once. Linked into teams of three and attached by a rope, we were taught simple rope etiquette and what to do if someone fell into a crevasse. Luckily, that never happened (and we were told it has never happened to a guest at Sheldon Chalet) though it is a real risk in Alaska, and especially Denali, even for the most experienced mountaineer.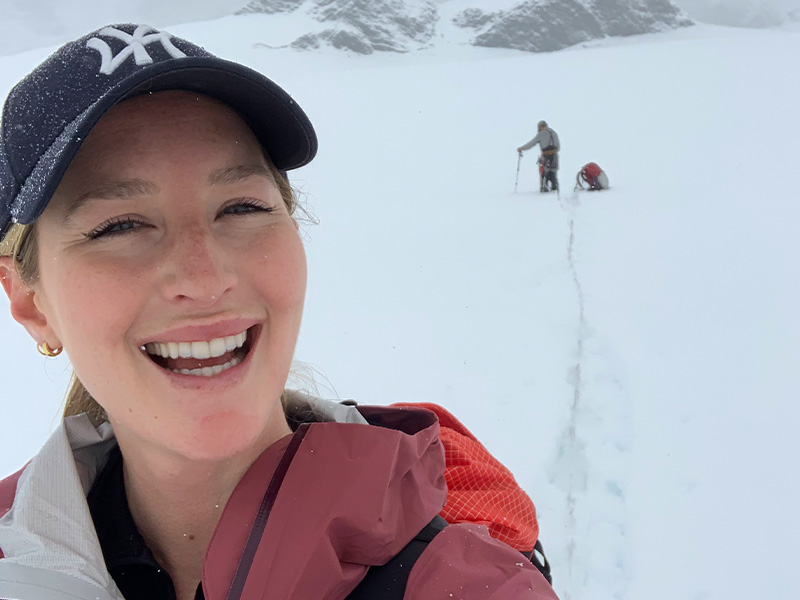 Me, glacier trekking and attached by a rope to Nikolai in the background. Image taken by me.
At the end of our trail, we were treated to impressive views of an ancient ice cave, plus a cozy tent we cuddled into as a group for a hot gin toddy or tea. As the wind whistled outside and snow pelted the thin yet effective tent fabric, we experienced—if only for a moment—what it's like to be a mountaineer on the remote slopes of the highest mountain peak in North America, and just how mighty Mother Nature is.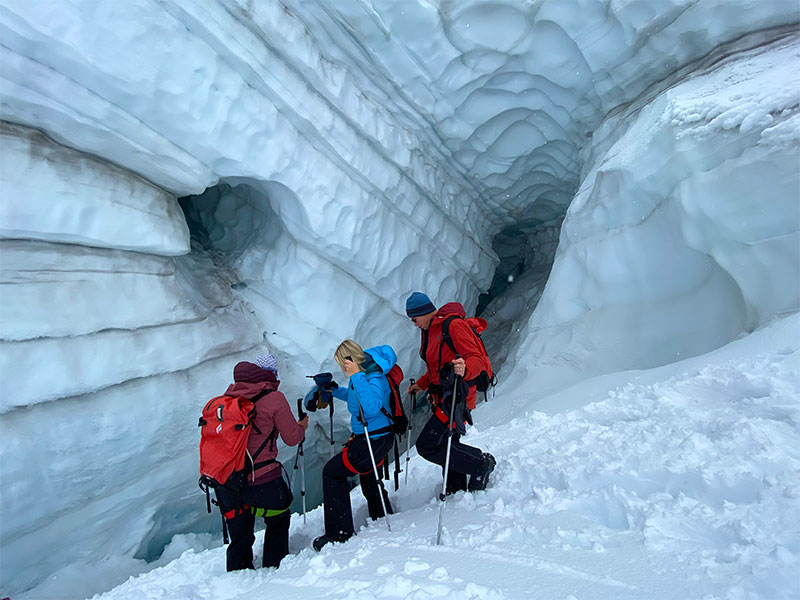 Deb, Jen and Gary glacier trekking at the entrance of an ice cave. Image taken by me.
Depending on the time of year, the chalet offers a range of activities. We were visiting in August so the glacier exploring was great, but in mid-summer there's glacier pool swimming (complete with grassy turf, BBQ and pink flamingos!) and in winter it's a skiers dream and all about the northern lights. When at the chalet, time can be spent in the sauna, playing board games or reading a book from the shelves in the main living area. The majority of these are about Don Sheldon, the legendary Alaskan bush pilot and original visionary behind Sheldon Chalet. Generations later, it's still in the Sheldon family – and the original Mountain House built by Don in 1966 still stands nearby.
Our team inside the original Mountain House (located behind the Chalet) built by Don Sheldon in 1966. Image taken by me
By the time the fourth day arrived and it was time to depart again for Anchorage, I felt bittersweet emotions ranging from somewhat somber to immensely grateful. Sheldon Chalet is a completely off-the-grid experience, and so while it felt great to unplug and truly soak up the luxury and gorgeous surroundings, I was also feeling ready to reconnect with loved ones and share the photos from my trip. Truly, this was a once-in-a-lifetime experience, and I don't anticipate I'll ever have another quite like it—that is, until I go back.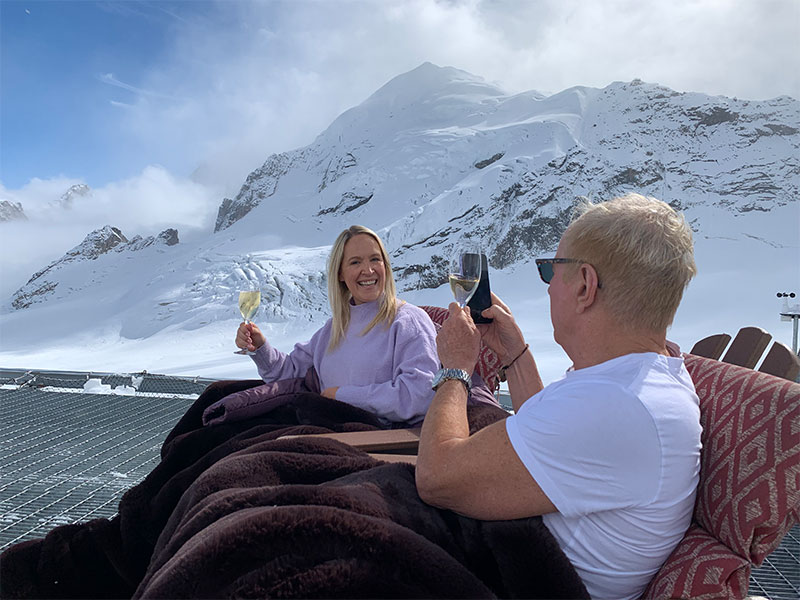 Our team enjoying champagne on the helipad while waiting for our heli transfer to leave. Image taken by me
In summary, here are some of the frequently asked questions we get about Sheldon Chalet. Still have more? Get in touch with our Travel Designers at sales@alaskabydesign.com or call 1 855 465 1001.
What exactly is Sheldon Chalet?
Sheldon Chalet is a 2,000 square foot, 5-bedroom, 2.5-bathroom chalet in Alaska that is offered as a private experience for up to 10 guests traveling as one family or friend group for a minimum of 3 nights / 4 days. The most ideal experience is 4 nights / 5 days.
What is Included in a trip to Sheldon Chalet?
The once-in-a-lifetime trip to Sheldon Chalet includes an inbound and outbound helicopter flightseeing tour from Talkeetna or Anchorage, all food prepared by a world-class chef, use of adventure apparel + gear, guided exploration and adventure in the 35 square mile Don Sheldon Amphitheater and a sauna with views of the summit for a truly grand experience.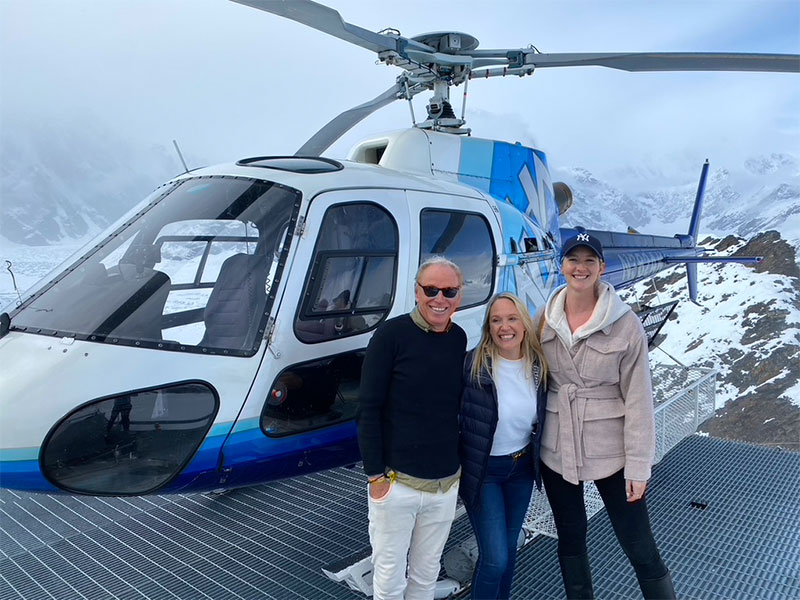 Our team outside the helicopter upon landing at Sheldon Chalet.
I don't like flying. Is there another way to get to Sheldon Chalet?
Air transportation is the only way to reach Sheldon Chalet. There are no roads, rails or trails accessing the area. The closest town of Talkeetna is 55 air miles away.
Tell me more about Don Sheldon. How did this place come to exist?!
For more about Don Sheldon, I highly recommend reading about his legacy on the Sheldon Chalet website, or reading the novel 'Wager with the Wind: The Don Sheldon Story.' I started this novel while I was staying at the chalet and can honestly say it's fascinating!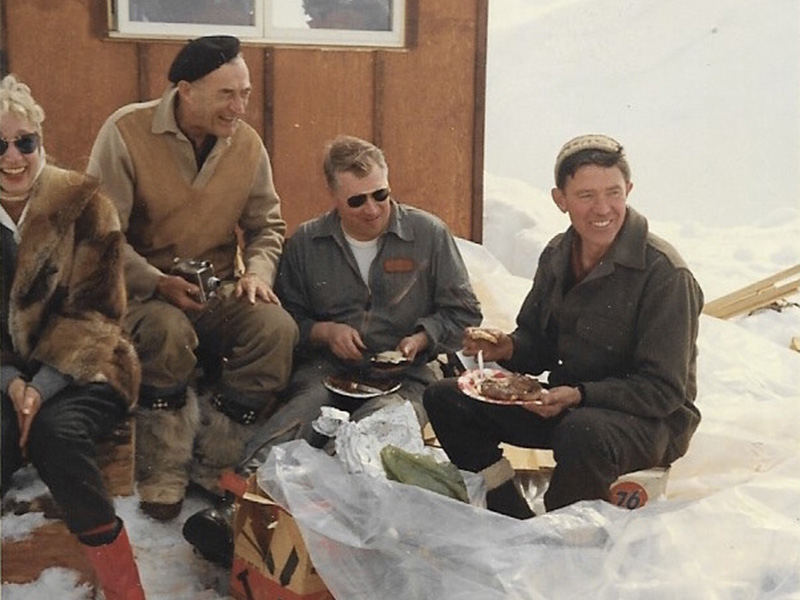 Don Sheldon (far right) with friends at the original mountain house. Image courtesy of the Sheldon family
How do you pack for a trip to Sheldon Chalet?
First and foremost, you need to pack everything into just a small (preferably soft-sided) suitcase or better yet, a duffel bag. Space for luggage is very limited on the helicopter, but the chalet makes it easy to pack light by providing all the heavy, bulky outdoor gear you need. Simply bring comfortable clothes for lounging in the chalet, a base layer for outdoor exploration and perhaps sandals to get to the sauna.
How much does a trip to Sheldon Chalet cost?
For pricing inquiries, please get in touch with our team at sales@alaskabydesign.com or 1 855 465 1001. You can also browse our Sheldon Chalet itineraries below: